Ethereum is a live example of anything can happen within a matter of a few days in the world of cryptocurrencies. After trading around $6 for the maximum part of the month, the coin picked up pace suddenly this week and went all the way up to $7. The current market performance indicates that this may repeat again very soon, and this time it may turn into a permanent trend.
ETC to USD Price Comparison
Ethereum Classic was seen to be trading at $5.923 almost 30 days ago, and from then since now, it has surged up to 16% to start trading at its current value at $6.915 as of August 24, 2019 at 09:44:43 UTC. In the last two days, Ethereum Classic price picked up pace suddenly to move from $5.450 to as high as $7.6 which became its 7-days high value. The coin may further cross it again.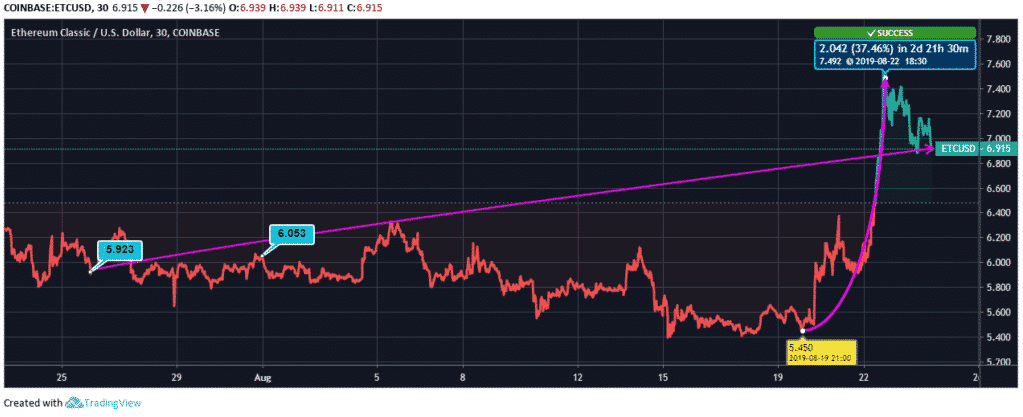 Current Statistics of Ethereum Classic:
ETC price is trading at $6.915 and 0.00069647 BTC
The Market Cap has reached $790,543,890
The 24-hour volume of the coin is $974,957,533
ROI of the coin has reached 822.99%
Circulating Supply is 112,940,084 ETC
Ethereum Classic Price Prediction & Conclusion:
ETC may rise as high as $8 in the upcoming days. The question, however, remains the same that whether the crypto will be able to cross its 90-Day high value $9.69 to start trading above $10 and chase bigger targets. This is a great time to start bulking up investments on the ETC coin and wait for the right time to get huge returns on the same.